"Why do we do it?" you ask us. "Why do we spend exorbitant amounts of time doing this thing called music that mostly sucks for pay and recognition in a world completely over-saturated with so much musical talent and creative vision?" 
Well my friend, it's cause we can't NOT do it!
I could write a rant about how bad the music business actually is, but the thing is, it's clearly not bad enough, otherwise we wouldn't be doing it! And there is hope....always the hope that things will get better, that consumers and labels and agents will stop using creatives for their own monetary self-gain and start treating them better because there truly is something in it for them that other "products" in the greater consummeristic culture cannot fulfill.
At any rate, after all is said and done, music is part of who we are, how we think and feel - it's in our blood. It keeps us focused and striving for something higher than ourselves. It asks us to be humble and okay with imperfection while striving for perfection that can never truly be obtained. It challenges our sheer grit to put ourselves out there, to be scrutinized and judged, even if that feels uncomfortable. 
But ultimately it is that very thing that helps us in our individual journeys' towards growth, self love and acceptance. Plus, we get to spend amazing moments with like-minded individuals, like you, who appreciate everything we bring to the stage, be it laughter, tears, existential confusion, nerves, hype, and/or everyday challenges… like last night where personal losses and tears quickly melted into laughter, camaraderie, hope and stick-to-it-ivness!  
So we're doing this thing!  
We're doing this for ourselves and for one another with the hope that others join us and "get us" somehow thru the feelings and energies that we bring that is many individual parts combined into one interconnected musical heartbeat!
With this is mind, we want to thank you dear friend and fellow traveler for sticking with us on this, yes, often rocky, but amazingly soul-nurturing road that we are still gratefully walking.  
Love Peace & Cheers!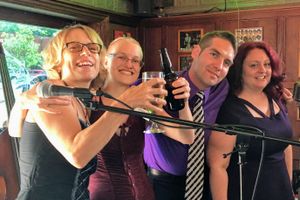 Christine