I thought I might extrapolate on my FB post from two weeks ago as I was really looking forward to International Woman's Day this year and was hoping to march with my sisters in solidarity. Why? Because I feel that gathering and marching peacefully with womyn (and their supporting men), gives a face and a very special energy to our deepest heart's intentions as womyn moving forward as a human race. It helps generate a sense of the larger issues and it creates a sense of oneness and belonging in a world where people in general are becoming more and more isolated, feeling more and more lonely and less supported than they ever have despite our so-called interconnectedness on social media. Many of us according to the latest studies, see perfect faces, perfect family photographs, words and isms, while we sit alone in our houses day after day wishing the neighbors would come out and interact, ask us over for tea, or help us shovel our driveways when we physically cannot. Marching, chanting, dancing, singing without oppression moves and awakens something within us that is primal, a feeling we have forgotten, or have perhaps never had the opportunity to experience. A feeling that reminds us that we are not alone in a largely indifferent world, that we are still here despite having been trampled on and minimized. It reminds us to keep fighting, to keep sharing our voices and our truth. To keep connecting in real time, face to face, outside of cyberspace.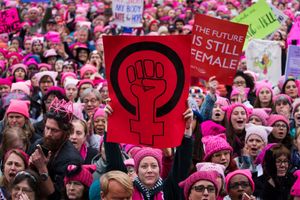 Much to my disappointment, I thought it would be easy to find a March. Last year the news stations covered the IWD gatherings taking place across the country, but it seemed that there was poor promotion in our city. We are a lone capital city from the prairies and I always have to laugh at how the national news outlets routinely bypass Manitoba and Saskatchewan in favor of the coastal provinces. Can they not see us on the map? I know Canada is HUGE, but…!  
I also know for a fact that the people here care a great deal about their city and the issues that negatively affect womyn, such as our murdered and missing, our labor pay gap and the rape culture that has gained popularity among men in our community and abroad. According to a recent report Manitoba has the highest sexual assault rate in Canada, so IWD should be a pretty big deal, shouldn't it?  
The International Women's Day official website listed four events taking place in Winnipeg this year. One terrific event, It's Okay To Rant, hosted by Grans n More, made the local news. As for a march, I found nothing but a link to last year's IWD events which I found out about last year AFTER the fact! Was it too cold to organize a march this year? We did get a large snow storm the week prior, but Winnipeggers are hearty folk! They do yoga in the outdoors in ski jackets and pants at sub-zero temps! Sigh…I feel discouraged. It seems we still have a long way to go.  
Not to lose hope, I spent a delightful evening with my daughter at the local YMCA (among mostly men) and wished the handful of women I saw a happy Womyn's Day! I was encouraged to see so many womyn working behind the desk and others prancing about in bathing suits that we could never have worn in public a few decades ago! Is this progress? I think so.  
But as I drove home afterwards, we stopped at the grocery store. It was 10:15 when I parked my car and waited for my daughter to grab a handful of items. Then a van pulled up beside me much too close and I looked up sensing I was being watched. There was a guy gesticulating to me thru the window. He looked angry. He seemed to be ordering me to move over onto the next section that was full of packed snow and large chunks of ice which would have scraped up the bottom of my car. He started to roll down the window. He was gesturing wildly at me to move over. I pointed back at him to park there himself. He started opening his door. I proceeded to calmly back out. This was clearly not worth a fight. Do I feel safe as a womyn in my world yet? Well no.  
Then the next day, we were out walking our dog and came upon another middle aged guy and his dog in a secluded area of the park. We heard a pinging sound on metal and stopped to try and figure out what was  happening. The guy had a sling shot and was aimlessly hurling rocks at the sign posts across our path. He didn't stop although he clearly saw us. Was he doing this on purpose? Thanks to our menacing Shepherd, who was getting very worked up, he stopped and went the other way. Do I feel safe in my world? Well no.  
Everyday, I am painfully aware of my vulnerability. I routinely watch my back and pay attention to details that probably pass over most men.  I once had a male partner who I thought would protect me, perhaps like the fantastical superhero's we all watched growing up as little girls. Instead, like many womyn, I lived in fear and chaos and eventually ended up literally fleeing for my life. All I wanted was a happy secure home for my kids to grow up in where we could all flourish. Did we ever feel safe? Did we flourish? No.  
Today I still long for that world where men and womyn are equally valued, supported, protected and encouraged to be the best that they can be irrespective of their obvious biological differences. True, there are really good men out there who have our backs, I know a few of them personally! Ones who are protective… not protectively controlling and abusive (there is a massive difference between the two).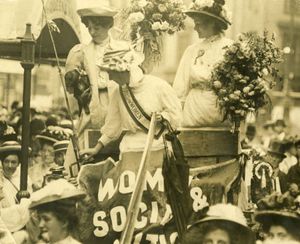 So we keep on marching in good faith towards a future many of us have only ever dreamed about. Some have given up altogether. It's hard not to when no one seems to care much. But I think that of all the things we could do, we could commit to throwing our support behind International Womyn's Day and march together in solidarity…with both womyn and men who do care a great deal about our place in this wild world! If anyone is still unsure, watch the recent film Suffragette and you will understand better why. And don't be afraid of the worn criticisms and negative labels! It's time womyn shamelessly came fully out of the shadows to prove that we do not ride on broomsticks, cast magic spells or belong in mental institutions for believing in and celebrating our invaluable worth and contribution to the human race.